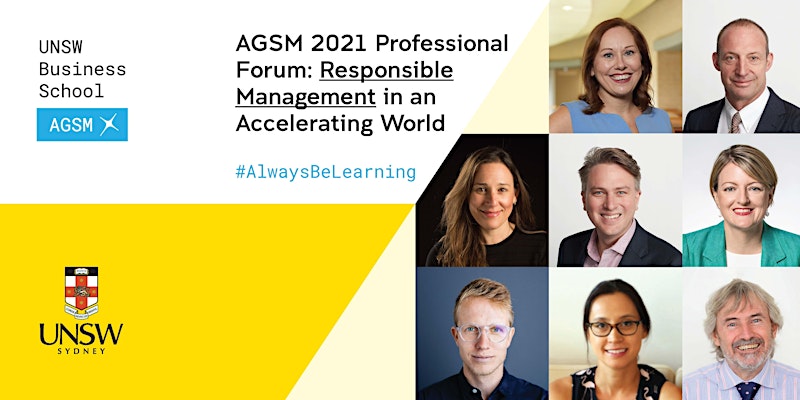 Responsible Management in an Accelerating World: building sustainable business models to 'do well' and 'do good'.
About this event
Today's leaders are often responsible not only for the actions of their own organisation, but those of a complex, often global, digitally connected value chain. Stakeholders (employees, consumers, industry governing bodies, and government) and shareholders (institutional and private investors) are more informed and selective about the organisations they choose to do business with and the brands they respect.
What does responsible management look like in this context? What did we learn from the global health and economic crisis that unfolded in 2020, and how will organisations implement sustainable, digitally-enabled strategic action plans to make an impact in an accelerating world. How can they be equipped to make bold decisions to build progressive, resilient, ethical, inclusive and sustainable business models? How can we rebuild, better?
The AGSM Professional Forum will enhance participant's capacity to practice responsible management and increase their understanding of the dynamic forces impacting leadership today. Responsible Management in an Accelerating World leverages subject matter expertise from across the AGSM alumni and UNSW academic communities. Leaders from the corporate, for-purpose, government and start-up sectors will share their first-hand experiences as agents of change.
AGSM 2021 Professional Forum details
Date: On-Demand Digital Event
Platform: Livestorm. A link to watch the digital event will be emailed to you once you register.
Cost: Complimentary. Registrations required.
You can find out more about the topics and speakers here.
The Digital Professional Forum Overview
First, Nicole Sparshott, CEO Unilever ANZ and CEO T2, joins Professor Nick Wailes, Senior Deputy Dean (External Engagement) and Director AGSM, in a wide-ranging conversation about Responsible Management and how Unilever, one of the first major global companies to declare a commitment to sustainability, is embedding responsible management practices across its global operations.
Then, a panel of AGSM alumni and industry leaders from the start-up, corporate and academic sectors will discuss how organisations are adapting their business models and processes to improve sustainability. They'll also look at how organisations are balancing profit with purpose – does sustainability make good business sense?
And finally, Associate Professor Michele Roberts explains why Responsible Management is so important in our accelerating world and why today's leaders have to make rapid decisions, calculate risks and make ethical decisions for their organisations to survive.
We will also share a series of Tiny Tutorials featuring AGSM Academics. In each one, they look at the issues and opportunities of embedding Responsible Management principles across business functions - Strategy, Data, Accounting and Financial Management, Marketing, and Entrepreneurship and Innovation.
For the full agenda and speaker bios click here.