BCN Industry Virtual Week 2021
Inteligencia Artificial, Blockchain y Ciberseguridad
De entre las tecnologías que conforman el paradigma de la Industria X.0, la inteligencia artificial, y sus distintas aplicaciones en múltiples sectores, así como la tecnología blockchain están llamadas a protagonizar la Transformación Digital de la mayoría de los sectores industriales.
En esta sesión, no solo cubriremos el impacto de la IA y las tecnologías blockchain en la industria, sino que también se reflejará la importancia de la ciberseguridad en el avance imparable de las tecnologías digitales en los sectores industriales para asegurar la calidad en las producciones tecnológicamente avanzadas.
---
Artificial Intelligence, Blockchain & Cybersecurity
Amongst the tecnologies that conform the Industry X.0 paradigm, Artificial Intelligence, and its applications in multiple sectors, as well as blockchain are the main factors disrupting the Digital Transformation in all industrial sectors.
This session not only covers the impact of AI and the blockchain technologies in the industry, but will also dive into the relevance of cybersecurity in the unstoppable advance of the digital tecnologies in the industry in technologically advanced productions.
---
PROGRAMA
Bienvenida
Pilar Navarro, Directora Unidad de Negocio Ciencias de la Vida y la Química - Fira Barcelona
Programas de ayuda para Digitalización Industrial
Sr. Jordi Llinares, Subdirector General de Digitalización de la Industria y Entornos Colaborativos, Ministerio de Industria, Comercio y Turismo
---
Panel Artificial Intelligence, Blockchain & Cybersecurity
(Session in English)
Festo AX - Artificial Intelligence in the world of industrial automation
Sebastian Werler, Product Manager for IoT - FESTO
Blockchain as a disruptive technology for business
Daniel Marco, Director - Direcció General d'Innovació i Economia Digital - Generalitat de Catalunya
Challenges of Securing Telemetry & Business Big Data
Marina Krotofil, Cyber Security Professional
Strategies for adopting AI in industry
Jone Echazarra, Responsable Grupo de Computer Vision - Tecnalia
Reinforcement Learning for a more autonomous and resilient manufacturing
Joan Lluis Mas, Director, Digital Technologies Division - Eurecat - CIDAI
Con la moderación de:
Jordi Ortiz, Director General - Secartys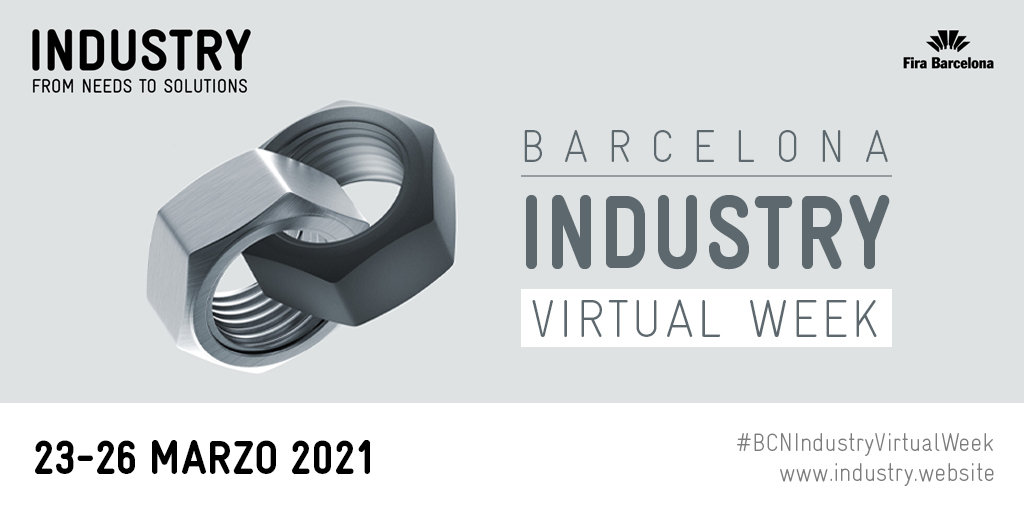 BCN Industry Virtual Week nace como una propuesta transversal a los retos de Fabricación flexible, Robótica, Inteligencia Artificial, Blockchain, Ciberseguridad, Visión y Fabricación y Tendencias en la Industria..
Juntos hemos preparado una serie de encuentros online, bajo el nombre de BCN Industry Virtual Week, para analizar cómo el sector podrá hacer frente a los retos que plantea la situación de la nueva normalidad.