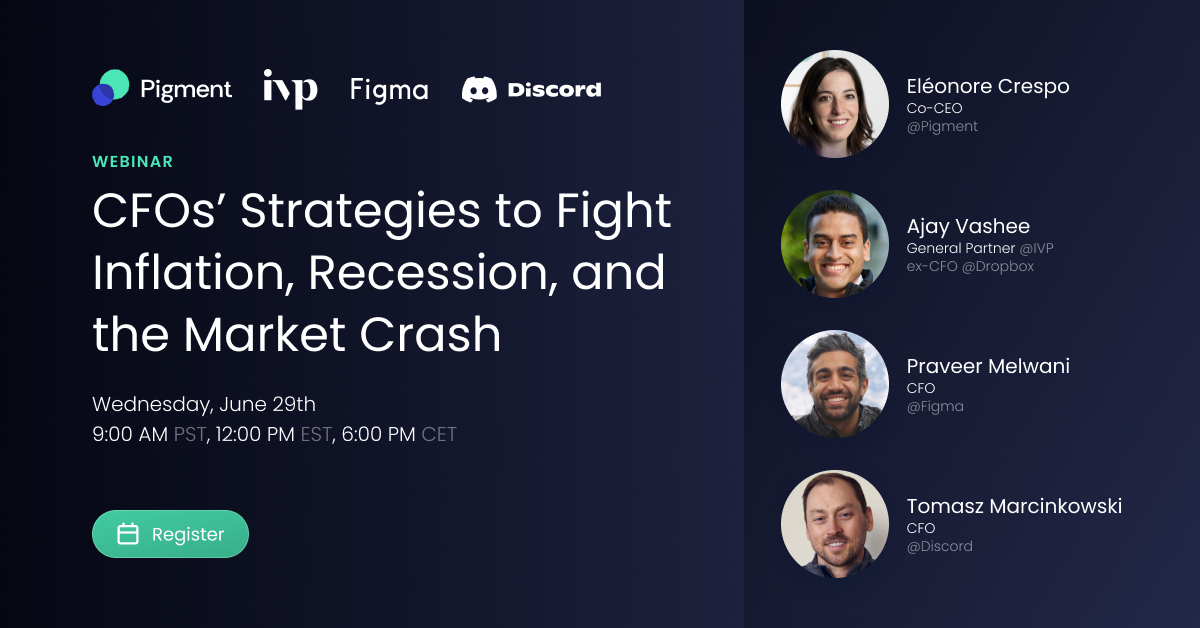 The past six months have been the largest period of value destruction in the history of public SaaS.
In light of the economic downturn, you have two choices: panic, or pause, reassess, and reforecast.
To help you navigate turbulent times, we've brought together Ajay Vashee, General Partner at IVP and ex-CFO of Dropbox, Praveer Melwani, CFO at Figma, Tom Marcinkowski , CFO at Discord, and Eléonore Crespo, Co-Founder and Co-CEO at Pigment.
Learn from seasoned experts as they discuss:
The critical role of the CFO in turbulent times and in supporting steady growth
The financial metrics that matter most when navigating market uncertainty
The value of a strategic finance function
How to approach building and scaling the finance organization
How can CFOs leverage effective and agile scenario planning to weather the storm
You'll have the opportunity to ask questions with takeaways directly from the CFOs playbook. We'll also cover how to leverage scenario planning in Pigment to accomplish the best outcome.
About Ajay Vashee:
Ajay Vashee is a General Partner at IVP where he focuses on high-growth consumer and enterprise companies.
Ajay helped lead IVP's partnerships in Figma, Superhuman, and TaxBit. He serves as a Board Director for Superhuman, and a Board Observer for TaxBit. He is also actively involved with IVP's investment in Hopin along with serving as a trusted advisor to companies as they grow and develop their finance function.
Prior to IVP, Ajay was Chief Financial Officer of Dropbox, where he led the company through its milestone IPO and first several years as a public company. During his tenure, Ajay helped Dropbox scale into one of the world's largest SaaS businesses—from $45M to nearly $2B in revenue, and from 50 million to more than 600 million users. Over that time, the employee base grew 30-fold, and the company opened offices across North America, Europe, the Middle East, and Asia Pacific. Ajay built the finance, corporate development, and real estate organizations from the ground up, and under his leadership, Dropbox made close to a dozen acquisitions.
Ajay was one of the youngest CFOs of a publicly listed company, and in 2019, was awarded Bay Area CFO of the Year by the San Francisco Business Times for his accomplishments. In his free time, Ajay enjoys running, building legos with his daughters, and rooting for the Seahawks.
About Eléonore Crespo:
Eléonore Crespo is Co-founder and Co-CEO of Pigment, the multidimensional business planning platform. Pigment's mission is to allow businesses everywhere to make better, faster decisions in a changing world – drawing on data analysis, intuitive design and sophisticated modelling to help leaders spend more time thinking and less time number-crunching.
Prior to Pigment, Eléonore was an investor at Index Ventures, working side-by-side with entrepreneurs and spearheading investments in Alan, Spendesk, Swile and Slite. Before Index she worked as a senior analyst at Google, reporting directly to the EMEA president and CFO on matters of strategy and planning.
Eléonore studied quantum physics and engineering at the École Normale Supérieure and the École Nationale Supérieure des Mines, two of the most competitive institutions of higher education in France.